Organisations that still think they can do everything themselves and build it all from scratch are being confronted with a growing complexity in the IT landscape. The endless developments in fintech are just one example. What does this mean for the future of IT development? Companies calling themselves 'your partner in x' may have become cliché, but the importance of real collaborations with partners on IT platforms has only increased with the growing complexity. So, what is it that turns those 'partnerships' into a powerhouse of an ecosystem?
Powerful collaborations in 'expert hubs'
The future clearly belongs to the collaborative digital ecosystem where each partner can focus on developing their own individual expertise. When bundled together with other experts offering adjacent services, the whole becomes so much greater than the sum of its parts. The result is a powerful service model that creates undeniable value for its customers. The common goal that these partners share is providing customers a way to concentrate on their own core business activities without the distraction of developing that same level of IT and online services from scratch.
A strong digital ecosystem is, of course, more than just the usual SLA between supplier 'partners' in the value chain. A truly powerful ecosystem is a collaboration at multiple nodes between multiple partners, some of whom may even be competitors, to offer the optimum level of service for a diverse customer base. The cloud platform where all these partners come together functions as a kind of 'expert hub' to offer customers an ideal service that includes being able to choose the software solutions and online services that best fit their specific needs.
Financial services can no longer afford to do it alone
The IT departments in many companies are still used to doing everything themselves. Financial services are no exception. Building apps themselves, developing services from scratch, even sourcing the specialised data to provide to customers themselves – that is 'how we've always done it.' Unfortunately, the growing complexity of IT architecture means that this way of working costs an excessive amount of time and money, while in the end, there is no guarantee that it is the right solution to the problem. Not only that, but scalability is nearly always a problem. When an organisation does decide to look to specialist services to add to their offering, these are seldom more than the purchase or use of information and services under a standard SLA. A cloud platform that supports a powerful ecosystem makes all that effort unnecessary.
Where we are seeing the biggest increases in complexity is in mobile applications development for the growing diversity of financial services. There are plenty of effective and efficient, even 'fun' apps being developed to make customers' lives easier and save them money. The difficulty for businesses is that it is no longer possible to offer these apps as stand-alone services if the purpose is delivering a truly useful service to customers, one that meets their expectations of speed and convenience. It is harder than ever to offer a complete service from start to finish on a mobile app without connecting it to some sort of external online service. Credit scoring and authorisation are perfect examples, but there are many more, such as data sharing with bookkeeping software, BI systems, and printers and mail services.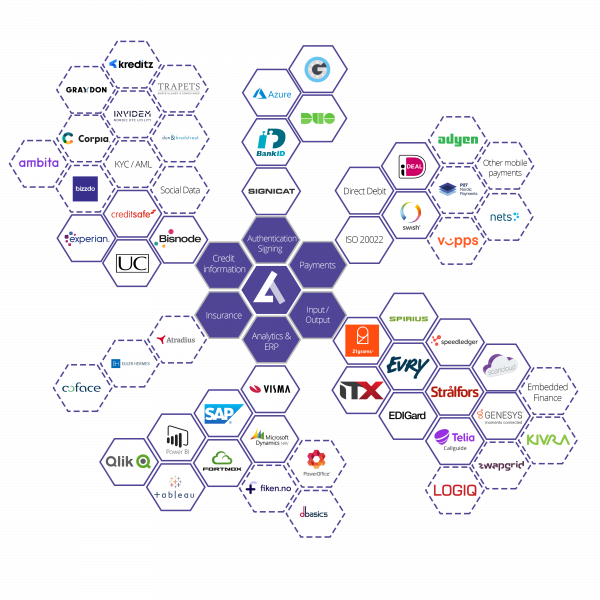 API economy: how IT ecosystems collaborate
An IT platform that already makes these kinds of operational partners available to its financial service provider customers gives them the ability to focus on delivering their own services to clients and consumers instead of the growing digital complexity challenge.
A truly efficient and effective IT ecosystem is one that removes the headache of complicated infrastructure and architecture for its users. That can only happen when the platform is designed to facilitate easy collaboration between all partners. The best way to achieve this is by exchanging data and services through Open APIs, which allows partners to connect quickly and easily to the platform and make their expertise available to every user.  
Crucial to the success of the collaboration is, of course, that all partners recognize the importance of being able to communicate in this simplified manner, taking steps to ensure easy access for everyone within the ecosystem. An ecosystem is only at its most powerful when all partners have unfettered access to each other's data and services.
Aptic's IT ecosystem
Aptic has created exactly this type of powerful ecosystem on the platform. Partners include renowned specialists in the financial services sector, such as credit information providers with data available on millions of companies in some of the world's largest databases. Other expert partners range from digital authorisation services and digital streamlining of operational processes and data exchanges, to printing, digital communication and BI and data analysis.
The diversity of collaborative partners in the Aptic ecosystem means that clients can easily set up their digital processes on the platform in exactly the way that best suits them. Clients can even choose to work with other service providers with whom they have had a good experience. Because the platform uses Open APIs to connect its partners, new partners can often be added quickly and easily. Expanding the existing ecosystem with more trusted specialists is how the whole of Aptic's platform continues to be more powerful together than any one provider could be on their own: a powerhouse that delivers real value for our financial services clients.
Do you have any questions about how an IT ecosystem works or our software solutions?
Aptic is an international fintech specialist. Cloud services, Open APIs, and more aspects of the digitalisation of financial services are a few of the trends in the financial sector that we discuss in our latest whitepaper. If you would like to read more about these and other trends, download Trends & Tools in Modern Business Financing below.
You are always welcome to contact us to know more about how we can help you with software solutions. You can find contact information to Rick Terra below or just send an e-mail to: hello@aptic.net