Customer-friendly BNPL solution
Komplett Group wanted to offer customer-friendly invoice management and BNPL financing options in their web shops and POS, without compromising control over the user experience of the check-out to a third party such as Klarna. 
The solution was Kompay –  a check-out solution developed in cooperation with Aptic. 
Kompay - The new check-out for Komplett Group and partners
- facilitating offering customer-friendly payments and POS finance products.
The Komplett Bank solution consists of different easily integrated API-based payment methods, such as invoice, instalment, deferred payment, and account. All methods are based on the Aptic platform. Komplett Bank has added functionality to propose available payment methods at each check-out through algorithms implemented to their payment selectors (i.e., a customized selection of payment methods based on experience from the individual customer and the selected shopping cart's content).
Komplett has integrated the POS financing solution "Kompay" into several stores within one of the Nordic region's most prominent e-commerce groups.
The solution is also implemented as an essential part of facilitating BNPL payments for many third-party sellers on the group's marketplace.
Komplett Bank is the exclusive provider of POS financing products to consumers within Kompay.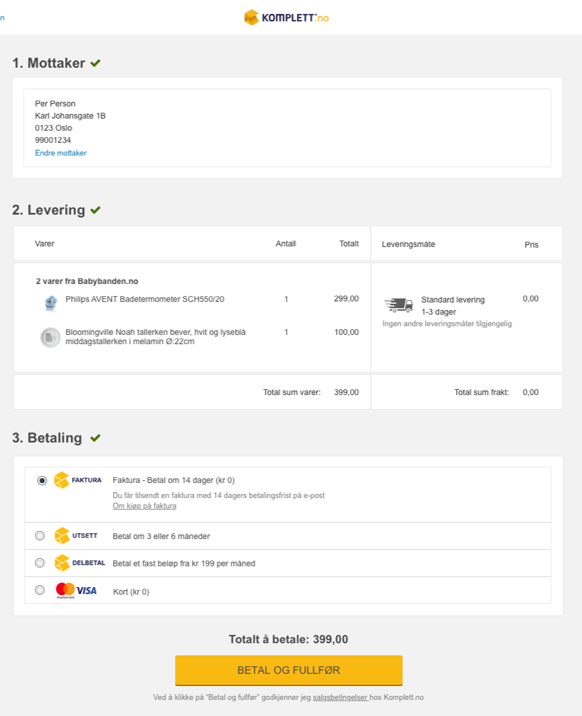 Steffen Ryengen, CMO at Komplett Bank, explain why they chose Aptic: 
"There were three main reasons why we decided to choose Aptic and their platform.
First, Aptic had a story and history developing similar end-products and had previously delivered solutions to clients in the same niche. 
Secondly, we liked the platform's architecture and saw the possibility of connecting the system with our strategic POS-finance concept. It was a great fit with how we wanted our financial solutions to be designed.  
And third, Aptic has the experience of transactions business models and the ability to deliver on the high demands that customers have regarding availability and reliability.
Overall, the solution is a critical component for us to be able to build this new business area and is an essential part of our strategy and expansion."
Do you want to know how Aptic can help your business? Read more about Aptic's BNPL solution
here
or contact us directly;
hello@aptic.net
Komplett Bank was founded in 2014 with a vision to become one of the largest suppliers of flexible consumer credit. Komplett was founded in Norway but has now expanded with offices and operation in Sweden and Finland.
Listed on the Oslo Stock Exchange 2017.
Komplett Bank's current product portfolio is a well-balanced range between consumer loans, credit cards, deposit accounts, Buy Now Pay Later, and sales financing.
Komplett Group is the largest e-commerce company in the Nordics serving customers in Norway, Sweden, Denmark, Finland, and Germany.
Komplett Bank has a close cooperation with Komplett Group and is the provider of financing solutions in their web shops.